Feature
It has few discoloration even used outdoors for a long time by addition of UV Stabilizer.
It protects electric/electronic instruments by using the material with substance preventing static electricity.
It is easy to make without breakage in hole and drill press and very strong against impact by using the material for high impact resistance.
We can supply optimized products which will be made of ordered material you request considering purpose and area used besides standard specification.
P series- Integrated Draw Latch, Hinge

As main parts of draw latch are made of stainless steel and hinge is made of plastic in integrated type, it is very strong, easy to separate cover and convenient to make hole or print.

Bracket mounting insert

It helps to fix the box tightly as brass insert is inserted in injection molding.

P series- roof function

It is designed to prevent the penetration of rain or dust perfectly double as roof is protruded from top and bottom of the base.

SUS Bracket

You can use our brackets to fix the box on the wall.
Model No : B60, B50, B40

H series - SUS Draw Latch

As double lock system, it prevents loosening by vibration etc.
Model No : L75, L65, L55

Mounting plate insert

Inner mounting plate equipped with heavy parts can be fixed tightly as brass is inserted in injection molding.

H series- SUS Hinge

To ensure durability, SUS hinge has various application to each size of enclosure.
Model No : H75, H65, H55

Plastic Mounting Plate

It is easy to make hole and has excellent insulation property. It is made to be strong with ABS material.

H series- Rubber washer

It is used for water proofing of dust proofing in installation of hinge, draw latch or other parts.

Key Ring

It is a ring to put a lock on enclosure.
Model No : K40

S series- Cover bolt connecting point

It is strong as screw thread was molded in injection molding.

Lock

Embedded lock
Model No : SK

Integral Lock

It is key lock for only P series.
Model No : PSK

Plastic Lock

Waterproof lock
Model No : PK

Gasket

It has excellent water proofing and dust proofing performance as gasket is sealed by super precision CNC robot machine.

M series- Recessed cover

Considering attachment of membrane keyboard, it is designed to make center surface of the cover slightly lower.

Vent

It is installed outside of box, which keeps properly temperature inside of box.
Model No : V80, V60
Model name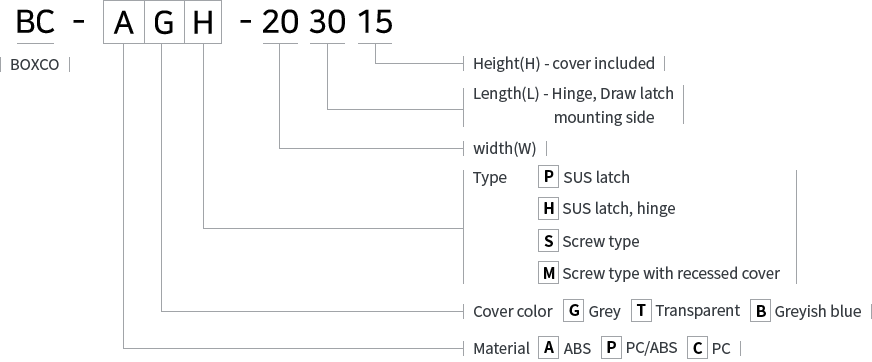 Materials of BOXCO plastic products
ABS

Acrylonitrile Butadiene Styrene

PC/ ABS

Polycarbonate+ Acrylonitrile Butadiene Styrene

PC (Transparent)

Polycarbonate

PC (Grey)

Polycarbonate or Polycarbonate + Glass Fiber

PBT

Poly Butyrene Terephthalate

※ Materials can be changed for quality improving.